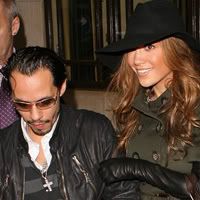 A London newspaper is claiming to have the scoop on J.Lo's pregnancy – and are confirming that the diva IS most definately expecting her first child with husband Marc Anthony.
The new issue of bi-monthly entertainment rag Invincible chatted with J.Lo early last week, ostensibly about her new album, Brave.
But, as the interview was nearing its end, they couldn't resist addressing the 'is she/isn't she' pregnancy rumours.
After the usual denial, the paper pursued the subject – and got a "maybe" out of La Lopez!! Here's the exchange in full:
INVINCIBLE: Are you pregnant?
J.Lo: No…next question
INVINCIBLE: Come on J.Lo we are all family now and everyone is bound to find out at some stage and what is the point hiding it? Are you?
J.Lo: Maybe…and that's all you are getting (she smiles.)
INVINCIBLE: I take that as a yes…Thank you so much for having us…
J.Lo: No, thank you.
Sounds like a "yes" to us!