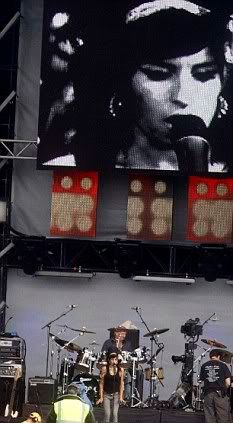 These are the pictures that seem to show Amy Winehouse is fit and ready for Nelson Mandela's 90th birthday concert in Hyde Park in England tonight. The Winewreck has been the subject of a 'will she, won't she' debate as she battles back to health following her collapse last week.
Many people were saying she would miss both the Mandela show and Glastonbury this weekend after doctors said she was showing the early signs of emphysema
Apparently, she put in an impressive performance on stage yesterday, belting her way through Rehab, Valerie and a version of Free Nelson Mandela with the Soweto Gospel Choir. Amy is being tipped to perform Free Nelson Mandela tonight, alongside its composer Jerry Dammers.
The song was released in 1984 in protest about Mr Mandela's imprisonment. It was performed at Nelson Mandela's 70th birthday concert at Wembley Stadium London in 1988 and became an anthem for the anti-apartheid movement in UK. A source at the rehearsals said: 'She was very perky and was joking on with her band and sound team.

'This was the old Amy, and she is clearly keen to just get up on stage and do what she does. Lets hope she can stay off the drugs and maybe get on the road to recovery.