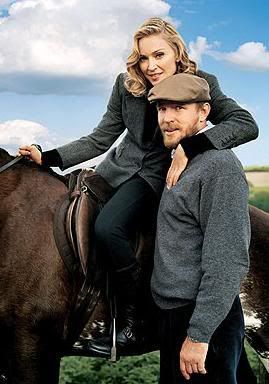 Madonna & Guy pictured about in happier times. Apparently Madonna's marriage began sliding towards divorce after her Guy's "unsympathetic" reaction when she tumbled from a horse, friends say. She felt Guy showed a "complete lack of love and sympathy" after she snapped eight bones in the horror fall. Seems Madge could not get over the fact that hubby did not drop all and run to her bedside.
Apparently that was the beginning of the end. The Sun is reporting a family friend said: "Madonna was in a huge amount of pain and expected Guy to drop everything to be at her bedside. "In her mind that is what every husband should do to support his wife when she has been through a traumatic, possibly life-threatening, experience. But Guy approached the whole thing in what she now calls, 'A very British way'. "Instead of smothering her with sympathy he said, 'Come on darling, you're a tough bird. You'll be back on the horse in no time'.
"Guy's approach was that a few broken bones is no big deal – and that there was no point in making a drama out of a crisis.
"But in Madonna's mind, she could have been killed, and she wanted the full works and to be lavished with love and attention. "She was so furious at what she saw as Guy's lack of support and cruelty that she told him she was wrong to marry him as he couldn't possibly be her soulmate." Madonna told after the fall how her "whole skeleton collapsed" – admitting: "I cried a lot, mostly from pain."
Guy was driven from the couple's home in London's Marble Arch yesterday morning to the West End set of his latest movie.
He refused to speak with reporters and hid behind blacked-out windows in the back of his Audi A8. Guyt will be represented during the divorce by Helen Ward, who won $100 million for BEVERLEY CHARMAN when she split from her insurance magnate husband in 2006. Madonna will be represented by Fiona Shackleton, who acted for Sir Paul McCartneyin his $50 million split from Heather Mills. Defiant Madge took an onstage swipe at Guy as she performed for 20,000 fans in Boston, Mass.
She introduced one song by saying: "That's right – I'm not sorry." She added: "This song is for the emotionally retarded. You might know a few people who fall into that category – God knows I do." She then sang the number Miles Away, about a couple who grow apart. Source: The Sun