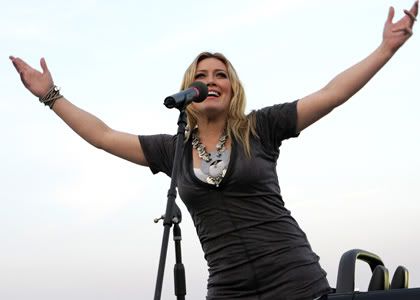 Making a trip to the midwest for charity, Hilary Duff served as the grand marshal for the NASCAR Nationwide Series Meijer 300 in Sparta, Kentucky on Saturday (June 13).
The "Cheaper By the Dozen" actress was on-hand as the national spokesperson for the "Blessings in a Backpack" organization, which partnered with Meijer for the race weekend.
During the race outing, Miss Duff and twenty-four students from Gallatin County Schools participated in several activities at the track, including a pit-road bike relay race before Hilary delivered the well-known command, "Gentlemen, start your engines!"
As for "Blessings in a Backpack," the goal is to collect new and used backpacks, which will be filled with donated food items, for students in kindergarten through fifth grade who are enrolled in Title 1 public schools that qualify for the Federal Free and Reduced Meal Program.