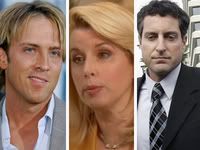 Anna Nicole Smith?s lawyer and companion, Howard K. Stern, filed a $60 million libel lawsuit Tuesday against Rita Cosby and her publisher over a book she wrote that claims Stern and Smith?s ex-boyfriend, Larry Birkhead, had a sexual encounter.
The suit, filed in federal court in New York, seeks $10 million in compensatory damages and $50 million in punitive damages from Cosby ? who wrote ?Blonde Ambition: The Untold Story Behind Anna Nicole Smith?s Death?– and Hachette Book Group USA Inc. The book, which hit stores in September, claims that besides the alleged sexual encounter, Birkhead and Stern both worked together after Smith?s death to manipulate the media and maximize profits.
The suit says that the book falsely accuses Stern of, among other things, criminal lewd acts, homosexual acts, illegal possession and use of cocaine, conspiring to commit murder and kidnapping for ransom. ?Defendants have exploited Ms. Smith?s life and death by publishing false and defamatory factual accusations against? Stern, according to the 65-page lawsuit filed by Atlanta lawyer Lin Wood.
A spokesman for Cosby declined to comment and referred calls to a spokesman for the book?s publisher. That spokesman, Evan Boorstyn, did not immediately return a call Tuesday seeking comment. Both Birkhead, the father of Smith?s infant daughter, and Stern, Smith?s longtime attorney and companion, had threatened to sue soon after the book was published. Tuesday?s lawsuit only lists Stern as a plaintiff.
An attorney for Birkhead, M.L. Trope, did not immediately return a call to his Los Angeles office Tuesday seeking comment. Birkhead acknowledged meeting with Cosby several times after Smith?s death in February. But he flatly denied that he and Stern ever shared a sexual tryst. Cosby, a former MSNBC correspondent, claimed there is a videotape of the alleged encounter and that one of Smith?s former employees had seen the former Playboy Playmate watching it. But Birkhead has said no tape could exist because the encounter did not occur.
Birkhead also has denied the book?s claim that he and Stern made a ?secret deal? about finances and the custody of Smith?s daughter, Dannielynn. Cosby has said she expected backlash from Birkhead and Stern when she started writing the book in April. Source