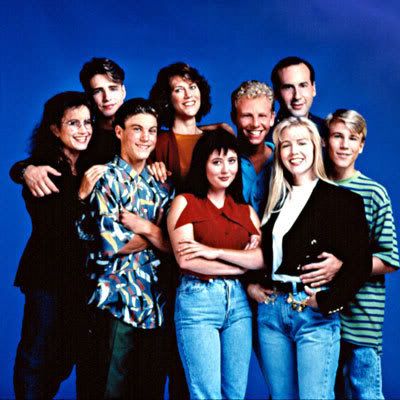 Gabrielle Carteris: Andrea Zuckerman.??-? She won our hearts as the "Mom" of the house on the first season of The Surreal Life.? She's done lots of voice-overs, most notably for the films Minority Report and Spider-Man 3, and guest starred on everything from "Nip/Tuck" to "NYPD Blue."?
Shannen Doherty: Brenda Walsh.? Love her or hate her, Doherty has done okay for herself in TV land.? She was on "Charmed," of course, and played a Heather in Heathers and a character with an impressive vocabulary in Mallrats.? Shannen?starred in "North Shore" and was cast and then uncast from "Love, Inc."? Currently she's filming Christmas Caper.
Jennie Garth: Kelly Taylor.? Yikes.? First she was bitchy, then she was nice but really dumb, then she was bitchy again.? It doesn't seem like Jennie Garth was much like either version of Kelly Taylor.? The former star of "What I Like About You,"?in which?she played nicey-nice big sister Val,?has signed on for the fifth season of "Dancing With the Stars."?
Brian Austin Green: David Silver.? He got the worst story lines of anyone, didn't he?? Recently Green starred in "Freddie" with Freddie Prinze, Jr.?
Luke Perry: Dylan McKay, the original not-so-bad boy.? Well, you're probably watching?Perry right now in "John From Cincinatti."? He also starred in last year's ill-fated series "Windfall."? He acted onstage in a London adaptation of the film When Harry Met Sally.?
Jason Priestley: Brandon Walsh, the good son, except for the time he got drunk and crashed the?car.??Priestley is?currently starring in Lifetime's "Side Order of Life."? He also played the nice guy in last year's "Love Monkey," one of the worst shows I've ever seen.?
Tori Spelling: Donna Martin Graduates!? Spelling has been rather famously disinherited and is now balancing new motherhood with running a B&B ("Tori & Dean: Inn Love").? She appeared in her own show "So NoTORIous" on VH1 and may be joining Jennie Garth on the new season of "Dancing With the Stars."
Ian Ziering: Steve Sanders.? What can you say about Steve Sanders?? Not much.? Ziering was the first "90210" cast member to appear on "Dancing With the Stars" and he did quite well for himself.? He does the voice of Vinnie on the British cult hit "Biker Mice From Mars."? Source?