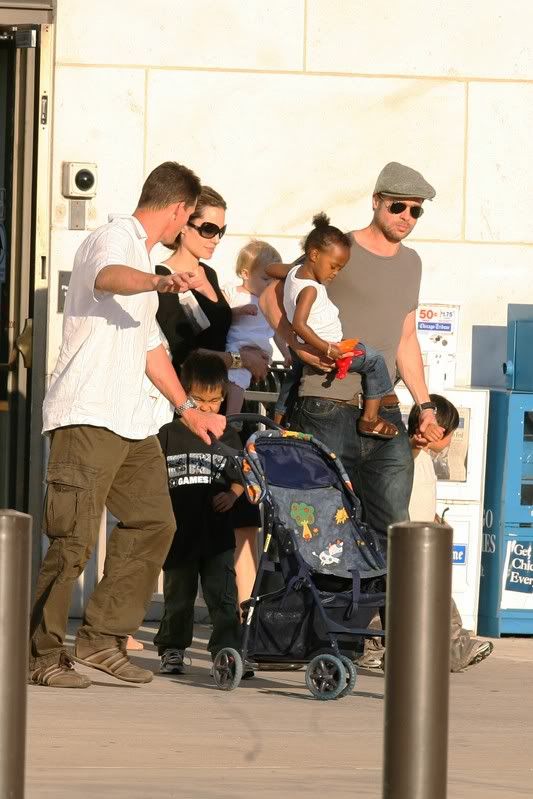 Angelina Jolie is rumored to be traveling with Brad Pitt tto Ethiopia in three months to adopt another baby.
According to sources close to the pair, they hope that another adoption will shore up their relationship as well as helping Zahara, the Ethiopian girl they adopted two years ago, feel more connected to the rest of the family.
"Brad and Angie have made no secret of the fact that they are keen to extend their rainbow family," said a source close to the couple.
"But they've always been very careful to ensure that they leave enough time between kids so that that each child fully integrates into the family and feels truly settled.
Angie in particular feels very strongly that while Shiloh will grow up seeing the family resemblance between herself and her natural parents, and Maddox and Pax will feel a connection through their birthplaces, Zahara has no such close-knit bond.
"They hope that by finding an Ethiopian brother or sister – preferably sister – for her, it will help Zahara feel more comfortable and happy in her own skin.
"Both Brad and Angelina are incredibly excited about the latest addition to the Jolie-Pitts and if anything will bring them closer together, then this is it."
They will visit Ethiopia's Wide Horizons agency in November – the centre from where Zahara was adopted two years ago. Assuming the adoption goes ahead, the couple will face annual reviews to check that the child is fitting into its new way of life.