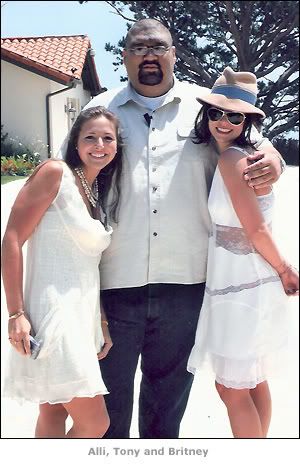 Tony Barretto, Britney Spears' former bodyguard and the secret witness in her ongoing custody battle is speaking out.
Tony on Her Drug Overdose on the Night of Her Comeback Concert
Tony claims Britney Spears overdosed with Howie Day just five days after checking out of rehab (May 2). It was just hours before the start of her comeback tour in Anaheim. Britney went on a date with Howie Day who she'd met in rehab. She told her team she didn't need them. Tony said: "We did security checks on Howie and told her he was trouble. But she ignored us."
Hours later hysterical Britney alled aides, claiming Day was refusing to let her leave their hotel room. Tony recalled: "She said she wanted to cancel the tour. She was very confused. We asked her if she was OK and reminded her she had a show to do. Then Howie came on the phone and started arguing with us. We knew we had to get to her fast."
Tony raced to LA's plush Mondrian Hotel with another bodyguard and Britney's best friend and PA Alli Sims. When they got to their room they found the door open and an appalling scene inside. Tony said: "We could see Britney all red-eyed from crying. Howie was lying in his boxers asleep on the bed. The hotel room was trashed.
"There were half-eaten plates of food everywhere. There were blankets all over the floor, clothes strewn everywhere. The trash was emptied everywhere over the floor. "The entire place was littered with empty beer bottles and liquor bottles, small glasses of ice and cigarette butts everywhere.
"On the surface of the dresser, I could see mounds of white powder and a straw on top. I suspected it was cocaine or powdered methamphetamines. By the side I spotted a glass pipe, which I knew from my drugs training was often used with crystal meth." The drug has similar effects to amphetamine and ecstasy. Overdosing can cause heart failure.
Tony went on: "I couldn't believe what I was seeing. Britney was completely out of it. We thought she'd overdosed. She was distraught, crying. Her skin was all waxy. She looked so ill. We tried to speak to her. My fellow bodyguard and Alli were so worried they wanted to get hold of a medic to detoxify her. We were panicking. We thought she was going to die. There was talk about where to put the detox line it was that serious?through her arm, which would make fans think she'd been injecting, or through her neck."
"It was very distressing. Eventually we decided to get her out of there. We grabbed her and took her downstairs. All the time all she could say was, ?I don't feel good'. In the car she was really odd. She kept asking for the air con to be turned up because she was sweating so much. I knew that was a bad sign."
They still had to get Britney to her first comeback concert, "Somehow, we managed to get her to the gig and on stage in time. When she started singing she was staring intensely at me. She was out of it. I kept telling the other guard she needed help but he said she'll get you if that's the case."
After the show things didn't get better. Tony said: "On the way home, she was making up strange songs and singing them in a weird voice. Then she wound down the window and started yelling, ?I'm a rock star. I'm a rock star'."
The next day me and the other guard talked about her overdose , he replied: ?Yeah thank God-we made it.' We never spoke about it again. "
Tony on Drug Abuse
It wasn't the only time Tony witnessed Britney with drugs. "I saw her snort white powder on two nights out at Teddy's nightclub in LA," he said. "The first time, she was in a private booth. She was sat with another girl. The second time she had asked me to walk her to the rest room. After she'd been inside for about half an hour I poked my head round the door. There she was with a straw up her nose."
Tony on Alcohol AbuseTony, claims, "Whenever she drinks, she turns into a party animal. Once she made me take a Jack and Coke to her as she sat in her white Mercedes ? and then she sped off with it. In the US, that's illegal. In the end, whenever she'd ask us to fix her a drink, we'd trick her by filling the cups with coke and adding a dash of bourbon on top to make it seem stronger than it actually was."
Her alcohol abuse is so bad he said, "We weren't bodyguards anymore. We'd turned into babysitters! We had to cut back on her booze because it was easier for us."
Tony On Keven Federline
Tony says K-Fed never visited Britney during his time alongside her. Tony said: "They would just have massive rows on the phone all the time. She would scream at him, and it would deeply distress her.
"I saw her through her mobile out of her car during one of their shouting matches."
"I never saw mum and dad together with their kids."
Tony on Her Behavior and Drug Abuse Around Her Children

Tony claims she was hung over by booze and drugs at home with the kids close by. "There were times when Britney appeared to be under the influence near them," he said. "It was frightening. She has a whiskey stash in her pantry?and even if the children are close by, that doesn't stop her drinking. After rehab she didn't want people to see her boozing. So in clubs she'd have Jack Daniel's and coke in polstyrene cups so it would look like coffee."
Tony added: "I noticed that when she was under the influence of drugs at home, she behaved the same way as she'd done on drugs at the club.
"I was worried about the children due to her erratic behaviour. She wouldn't talk to them at all and she would be in her own world. I remember being in the hallway, and she was at the other end looking completely out of it. She would be nervously chewing her fingernails and babbling away. We'd have to look after the kids while she went through her strange behaviour.
"I know enough about drugs to know she was not being the normal Britney."
Tony also told how she kept Jayden James and Sean Preston up late so they would sleep through the mornings and not wake her. If they woke early, a member of staff dealt with them. Tony said: "Britney does love her kids but she is a fickle mum. When the kids are happy, she's happy. When they're crying or unwell, she's not sure what to do."She speaks to them in weird, creepy, baby voices, in made-up languages, which they just don't get. All it does is unsettle, upset and scare them. Often she would scream and cry uncontrollably. Imagine what that is like for young children."Tony said he never saw her feed the boys. He added: "When they are unwell, her answer is: ?Give the baby a bottle of medicine.' I've never seen her deal with them like a full, attentive mum."
Tony knew he had to take action when Britney nearly wrote off her car with the kids inside. He said: "We followed her but she was driving like a lunatic on the wrong side of the road. It was terrifying."
Read More About Her Flashing in Front of Staff
Read Her Rule Book For Workers