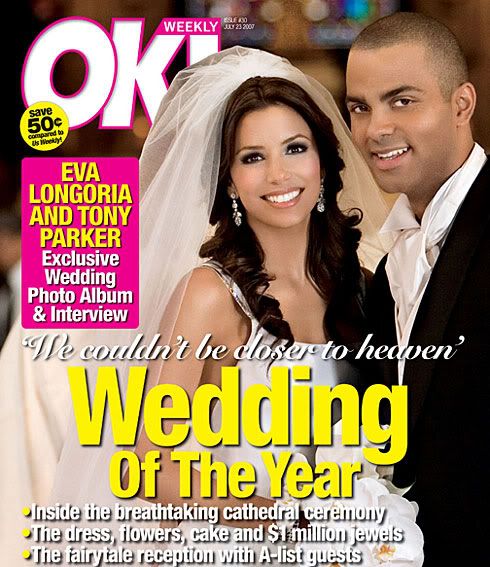 ?The ceremony. The couple opted for a traditional Roman Catholic wedding at the Saint-Germain-l'Auxerrois church in Paris. The Rev. Dominic Schubert officiated. "We added the Mexican traditions, with the lazo (large rosary) and the dimes, the Bible readings and the lighting of the unity candle," Longoria says.
?Celebrity guests. Teri Hatcher, Felicity Huffman, Sheryl Crow, Jessica Alba, Ryan Seacrest, Desperate Housewives' creator Marc Cherry, who said in his wedding speech that the couple couldn't have kids this year because it's not in the script. "We're fine with that," Longoria says. "We want to spend time with each other, even though we want kids very much."
?The gown and bouquet. Longoria wore a silk and georgette organza gown and 10-foot train designed by Angel Sanchez and estimated at more than $75,000. The bride carried a bouquet of white phalaenopsis orchid stems and crystal blush calla lilies.
?The theme. Celebrity wedding planner Mindy Weiss coordinated the big day, which featured a red theme. Rose-red buses transported guests from the church to the reception at Ch?teau de Vaux le Vicomte, and the five-tier wedding cake was red.
?The cake. Asked about the cake a few weeks ago, Parker dismissed reports that it would be imported. It was, however: Sam Godfrey of Perfect Endings in Napa Valley, Calif., created a vanilla-bean pound cake filled with crushed organic raspberry preserves and white buttercream. "You don't see a wedding cake like this very often," Godfrey tells OK!. "It has a little flair, but it's really simple and sophisticated."