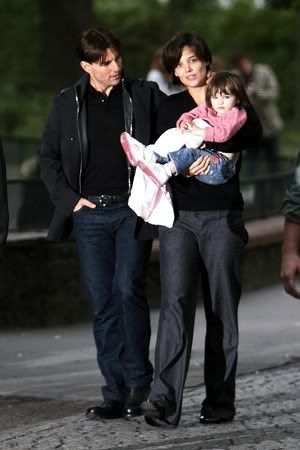 On Aug. 6 Katie Holmes left Suri with Tom in Berlin and flew to L.A. alone! Katie headed home to have a secret meeting with her agents and producers about starring in the big-screen version of the popular ?70s television series Wonder Woman.
?Katie apparently didn?t want Tom to be a part of the discussions,? the source tells
?The movie?s only at the discussion state, but Katie feels this role as a kick-ass superhero will put her back in the public eye,? the source says.
?She wants to show her stuff, and she wants to prove that she can stand on her own two feet without Tom?s help. Tom, at times, feels compelled to oversee Katie?s career, but Katie is bent on doing this alone. She actually scheduled the meeting when she knew Tom wasn?t going to be able to be there.? Cruise has been filming the WWII themed in Berlin since July.
Cruise watchers immediately started whispering about why Katie didn?t fly back with her 16-month-old daughter, Suri, ?It was a matter of give and take,? the source says. ?Tom must have said, ?Fine, go to L.A. for your meeting, but leave Suri with me.? Katie really had no choice.?