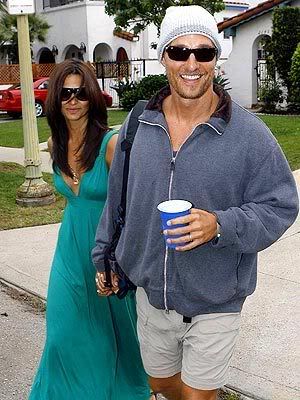 According to Star Magazine, Matthew McConaughey, has popped the question to Brazilian model Camilla Alves. ?Matthew has never been so in love with a woman and would do anything within his means to make Camilla happy?including a proposal,? a friend tells.
While he wants to keep the engagement on the down-low, the Texan has been kicking around the idea of a beach side wedding next spring. ?Both Camilla and Matthew are extremely close to their families and want to make sure everyone they love will be able to celebrate with them,? says a source. ?It?s going to be the party of the year!?
Meanwhile, to show his commitment, Matthew has agreed to move out of his beloved trailer and set up house with Camilla in a beach front Malibu mansion!