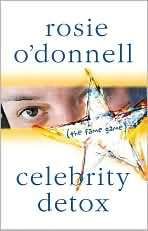 ROSIE O'DONNELL's highly anticipated new book (not by me), Celebrity Detox, doesn't hit stores until October 9, but details have already started to come out. (I'm sure she leaked them herself) Rosie O?Donnell used to break her own limbs with either a baseball bat or a wooden hanger when she was a child. This personal memory, so shocking, is almost thrown toward the end of what is better described as a long essay than a short memoir.
She broke her own bones, she recalls, ?my hands and fingers usually. No one knew. It was a secret.? She used a Mets baseball bat she got on bat day or the hanger. Why? It was ?proof I had some value, enough to be fixed.? She recalls that she was no longer sad about her mother?s death, but ?distracted.?
Rosie also dangles another clue about her childhood in two sentences. ?There were many benefits to having a cast. In the middle of the night, it was a weapon.? Why she would need a weapon in the middle of the night is not addressed.
Most of ?Celebrity Detox,? which a source supplied to me Tuesday, is about Rosie?s life ? her mother, her kids, her life before and after "The View." And a good part of it deals with her rocky relationship with Barbara Walters. O?Donnell chronicles the year she spent with Walters in some unsparing details. And while there are substantial revelations of their constant warring, Rosie also concludes that she and Barbara are on better terms now.
But that?s not how it was while they were stuck together in front of cameras and an audience. She writes about her observations of Walters? aging, her ?tiredness,? she says, at age 77. She recalls a shouting match backstage in which she called Walters a ?liar? over and over for not defending her when Donald Trump came on the attack. She calls Trump a ?gelatinous ? slug.? O?Donnell recalls several startling moments with Walters, who she says came to resent her quickly after Rosie joined "The View." Rosie says clearly the view was not for her, it was "The View" of someone else. Somehow I think it was difficult for Rosie to share the stage with 3 other people. She is not exactly a team player – she is a team of one, who constantly needs attention. When she stated on The View it was destined to be a disaster – she has never learnt to play nice.
?During the commercial, people scream ?I love you Rosie,?? O?Donnell writes. ?And Barbara tells them in a schoolteacher tone, ?It is impolite to say I love you to one person when there are four of us up here.? Then a stony silence sets in.? Source