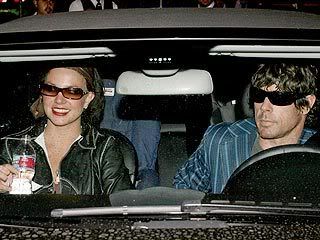 Daimon Shippen is soft-spoken, strong and good with kids ? but his relationship with Britney Spears is purely professional, sources tell PEOPLE.?? "He's her bodyguard and manny," says a source familiar with Shippen's employment. "They're not dating."
Shippen, a California native described by the source as "funny, but on the quiet side," is "tickled" by the attention from the media. "But he really wants to focus on his job: taking care of the kids and of her," says the source.?? Shippen, the source confirms, was indeed the mustachioed security guard who helped catch Spears's son Sean Preston when the singer stumbled in New York in May 2006. At the time, Shippen was working for a security firm.
Shippen and the company parted ways soon after, but Spears recently rehired Shippen ? now clean-shaven ? independent of an agency. In recent days he has escorted her to a production of Wicked and to church, carrying a crying Jayden. He also has been spotted with Spears at a Beverly Hills hotel where she has been staying recently.?? A second source says that despite all the time they've spent together, it is "completely false" to suggest Spears is dating Shippen.