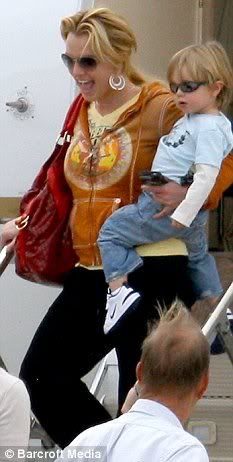 Britney Spears rushed her two-year-old son to hospital after he suffered a suspected seizure during a family trip to her hometown. Jayden James was raced to the emergency ward after lapsing into a 'vague and unresponsive' state.
The toddler fell ill yesterday afternoon at the family home in Kentwood, Louisiana.
The entire Spears clan made the 25-mile dash to Southwest Mississippi Regional Medical Centre, Mississippi. Doctors were unable to pinpoint the problem straight away and kept the toddler in for overnight observation.
Distraught Britney refused to leave his side and asked for a bed next to him in the ward. Her ex-husband, rapper Kevin Federline, is now believed to be making plans to jet out of Los Angeles to be at Jayden's bedside.
It's the first time Britney has been allowed to leave California with sons Sean Preston, 3, and Jayden since their dad K-Fed was given full custody in July. She flew them into Louisiana on a private jet with her dad Jamie on Friday, the morning after her surprise appearance onstage with Madonna in Los Angeles.
The special week-long visit was to steal some family time ahead of Britney's forthcoming promotional tour of her new album 'Circus'. Source: Daily Mail