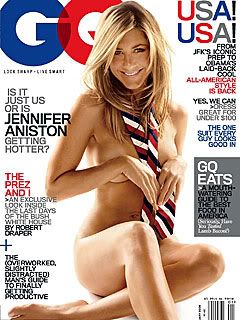 Is it just me? Everyone is saying how hot Jennifer Aniston looks on the cover of January 2009 GQ. To me the pose looks flipperish – look at the hands and her smile looks like the jokers. Obviously, there is a lot of photoshop going on in this picture.
So why did she pose naked with nothing but a smile and a tie. hmmmm lets see a new movie coming out. If you can't make it on talent and all else fails pose nude and talk about your ex Brad ;-)
I am not sure why people like Jennifer so much again in the "revealing" interview she takes a swip at Brad and Angie. "The funny thing is, people don't realize we all go away to The Hamptons on the weekends," jokes Aniston. "That'd be hysterical: I've got Zahara on my hip, and Knox…" She really needs to get over Brad and move on – at this point she is starting to look pathetic. Just my point of view!