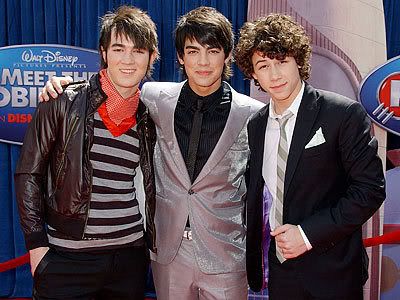 At the beginning of last week the Jonas Brothers were the idols of lovestruck teens.Since Russell Brand's now infamous crude comments on the pop trio's vow to remain virgins until marriage, they've become hot showbiz gossip.
Nevertheless, the clean-living boys are still smarting from the jibes mischievous Brand made as he hosted the MTV Music Video Awards in LA.
And the brothers, who each wear promise rings to symbolise their abstinence, aren't prepared to take such humiliation,. Speaking exclusively to the Mirror the youngest Jonas Nick said: "Russell obviously recognised that we are gentlemen. "But he must have run out of material for a little while if that's what he had to resort to."
"We've seen him on telly and thought he was hilarious," adds frontman Joe, 19. "But that night we didn't find him very funny at all. We didn't let him spoil it though. We focussed on our performance and had a great time. We got to meet Britney too which was an honour. She's looking stunning." Source