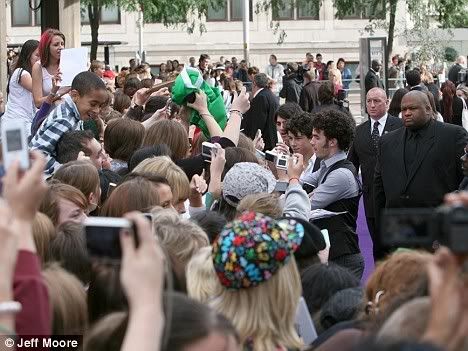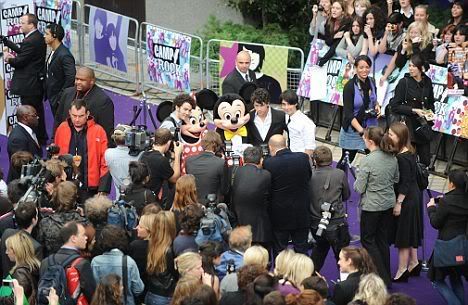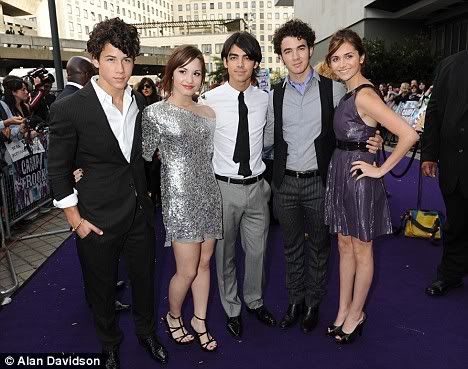 More than 1,000 hysterical teenage girls turned out to see their idols, The Jonas Brothers, at the premiere of their film Camp Rock in London on Wednesday evening. The arrival of the Jonas Brothers caused mayhem on the red carpet at the Royal Festival Hall. Amid chaotic scenes, a sea of girls – mainly still in their school uniforms – wailed out their names, burst into tears and some even collapsed, overcome by emotion.
On more than one occasion, a fight broke out between groups of teenagers scrapping to get their hands on posters erected around the red carpet to publicise the red carpet event.
The memebers of the group are New Jersey-born Kevin, 20, Joe, 19, and Nick, 15. They are signed to Hollywood Records, which is owned by Disney. The brothers star in and provide the soundtrack to the film company's latest movie, Camp Rock.
Their father, Kevin Jonas, is a former pastor and the evangelical Christian siblings all wear purity rings as a sign of their promise not to have sex before marriage. Anyone who watched and even those who did not watch the 2008 MTV Video Music Awards would have heard about "the purity rings". The host of the show Russell Brand thought the concept was to be joked about and Jordan Sparks came out "punching" and defended the boys. Source