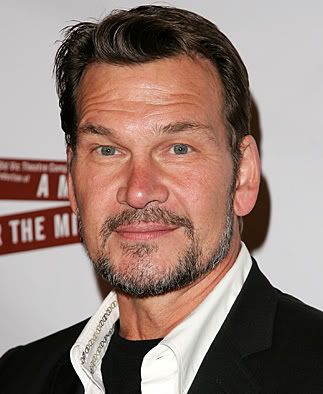 Patrick Swayze is bouncing back: The actor's television project has just been greenlighted by A&E and will start filming this summer.
Swayze, who says he has been responding well to treatment for pancreatic cancer, is set to star in the A&E drama The Beast alongside Aussie actor and former Tarzan star Travis Fimmel.
"I have searched for quite a long time to find a character that is this multi-layered, unpredictable and downright entertaining, as well as a project this current and cutting edged," Swayze, 55, said in a statement from the network.
In the series, the actor has a starring role playing veteran FBI agent Charles Barker, who is assigned to teach his rookie partner (Fimmel) his eccentric undercover crime-solving methods while secretly being investigated by an Internal Affairs team. Production on the show begins this summer and will film on location in Chicago, with a scheduled premiere date of early 2009.
"Chicago is an amazing, untapped city. I can't wait to get to work on this," said Swayze.
The actor is currently undergoing care at Stanford University Medical Center and will continue his course of treatment during filming. The original pilot for the A&E series was shot last December, just three months before the actor revealed his cancer diagnosis.