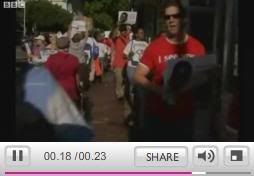 US groups that represent the disabled have protested at the premiere of Ben Stiller's new film, Tropic Thunder. Demonstrators who gathered outside the Mann Village Theatre, in Los Angeles, said the film "humiliates people with intellectual disabilities".
Stars Stiller and Robert Downey Jr shared the red carpet limelight with placard waving demonstrators. Film company Dreamworks said there was no intention to "disparage or harm" people with disabilities.
Tim Shriver, chairman of disability group Special Olympics, said protestors were particularly offended by the use of the word "retard" regarding a character, Simple Jack, played by Stiller "We feel that the use of the word 'retard' throughout the film, 15 or more times, is done without any regard for the dignity of people with intellectual disabilities," he said.
"The caricatures of people with intellectual disabilities are you know, almost hateful, and we want this to be the beginning of the end. We want this to be the end of Hollywood treating this population as the butt of jokes." When asked about the controversy, actor Robert Downey Jr said it was "open to interpretation," but accepted people had a right to protest.
"That's the great thing, you know, if I want to protest something because it offends me that's my right as an American, and it's also any artist's right to say and do whatever they want to do," Downey said. Dreamworks spokesman Chip Sullivan said: "We have had productive discussions with representatives of disability advocacy organizations and look forward to working with them closely in the future.
"However, no changes or cuts to the film will be made. "Tropic Thunder is an R-rated comedy that satirizes Hollywood and its excesses, and makes its point by featuring inappropriate and over-the top characters in ridiculous situations.
"The film is in no way meant to disparage or harm the image of individuals with disabilities." Tropic Thunder is an action comedy which follows the group of prima donna actors filming a Vietnam War movie when their fed-up writer-director decides to dump them in the middle of a real war. The film also features Downey Jr as a white actor who changes his skin colour to play a black soldier. Jack Black, Tom Cruise and Matthew McConaughey also appear in the film.
The film, also directed by Stiller, has recieved mixed reviews from critics. Variety's Todd McCarthy praised Downey Jr's "startling" comic turns, but said the film's antics were "pretty thin, redundant and one-note".
David Ansen, in Newsweek, described it as "the funniest movie of the summer"
Celebs at The Premiere