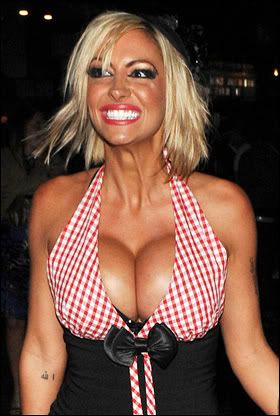 The British Pam Anderson – Jodie Marsh has revealed that she's having a relationship with her female hairdresser. She went public with her romance last week during a night out in London, when they were snapped kissing.
They have known each other for 12 years, but Jodie, only got together with Nina after she gave her a new shorter haircut.
Jodie told Now: 'I've had loads of shit men,' she says. 'I can see why women turn lesbian, because you get to the point where you're sick of hearing so much f***ing bullshit, so you start to look elsewhere. 'Nina's really sexy. She asked me out and we've been on a few dates. I think she's a cool girl. 'I love the way she kisses and she doesn't f*** me about. I feel comfortable with her. Nina's as sexy as any man.'
Jodie is repulsive looking and the skank probably can't get any men to touch her anymore so now she is trying women. Hint to Nina buy some valtrex!