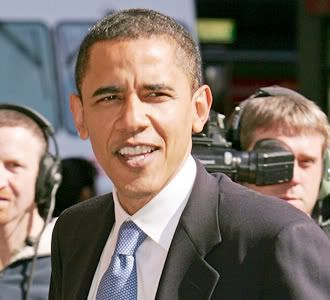 The Obama camp is going to have to think twice about having all the Celebs present at the Democratic Convention. McCain has already com out with the famous ad saying Obama is "The Biggest Celebrity In the World. With the John McCain camp trying to paint Obama as a lightweight celebrity on the level of Paris Hilton and Britney Spears, Obama's folks might be getting a little nervous about the star power likely to converge on Denver. It's no secret that many celebrities, especially of the Hollywood variety, support Obama enthusiastically. Hollywood has always been heavily Democratic, and message of change has made passionate fans of stars like George Clooney, Ben Affleck and countless others.
George Clooney, for one, won't be part of it: He has long maintained that Hollywood stars do not do the candidates any good in the heartland, and he is said to be planning instead a September fundraiser for Obama far from Denver — in Geneva, Switzerland.
But Affleck will be at the convention, and TV talk show host Oprah Winfrey, Obama's most influential celebrity booster, plans to be in the audience when her man accepts the nomination at Invesco Field. Others expected: Spike Lee, Charlize Theron, Josh Brolin, Annette Bening, Susan Sarandon, perhaps Leonardo DiCaprio and Gwyneth Paltrow. Want even more Oscar-caliber acting power? Sean Penn will be around, at a rally organized by independent candidate Ralph Nader.
Kanye West is just one of the entertainers performing at various sideline events, as are the Black Eyed Peas, whose frontman, will.i.am, has released not one but two star-studded music videos in tribute to Obama. Sheryl Crow, Melissa Etheridge, Cyndi Lauper and Stevie Wonder are expected. Rock the Vote, a nonpartisan group, plans to feature Jakob Dylan, Fall Out Boy and NERD at one party, singer Ashanti and Broadway musical star Idina Menzel at another.
Republicans are specifically trying to hurt Obama by focusing on his celebrity appeal and it seems Obama is playing right into thier hands. With so many celebs at the event he may reinforce a view of Obama that he is all sparkle and no experience. Source