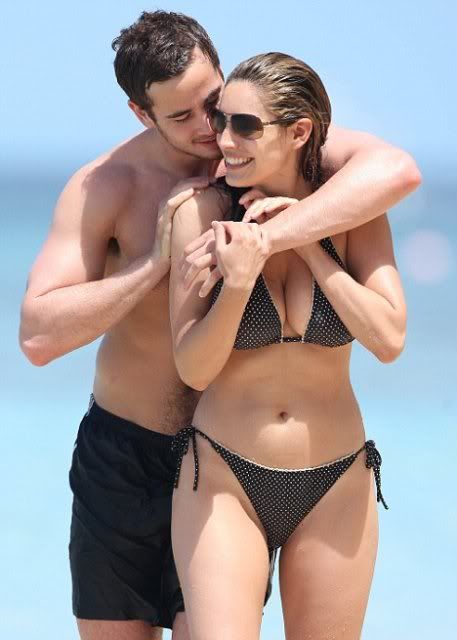 The look of love: Danny Cipriani and Kelly Brook are spending Easter together in the Caribbean, ten days after rumours surfaced that they were to break up
When rumours surfaced that Kelly Brook and Danny Cipriani's relationship was on the rocks the couple didn't bother to contradict them.
Instead, it appears, they simply decided to jump on a plane.
And just days later they have been conveniently pictured frolicking in the surf.
Public display of affection: The two enjoyed a kiss in the sea
She said: "It's actually really refreshing to be with someone who isn't in my business because it's something else that we can talk about.
'And I'm really interested in what he does, because it's what he does and I love him.'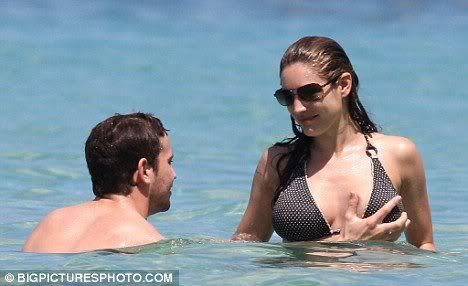 Cheeky squeeze: Danny gets naughty can't keep his hands off Kelly's lovely boobs.
She said: 'I know more about hip-hop music than I ever did before. He's closer in age to me than anyone I've ever been with.
'That's the reality. If I'd known it was this good I'd have done it years ago.
'Not to be rude, and I don't want to knock my previous relationships, but I couldn't be happier.'
Danny's relationship with Kelly attracted negative press from rugby critics, who accused him of being distracted by his celebrity relationship.
Bathing beauties: After their jet ski ride it was time for a lie down