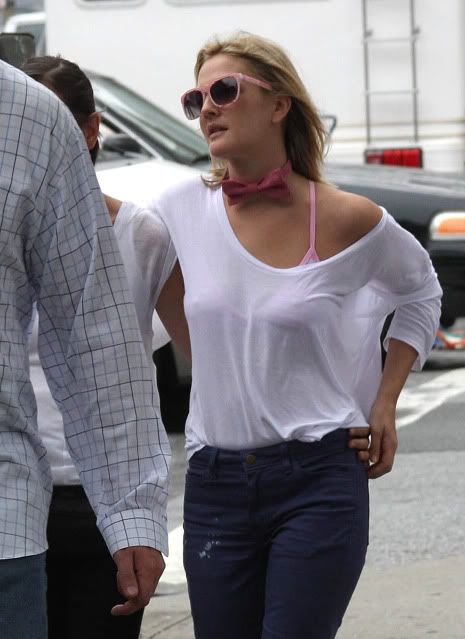 Drew Barrymore photographed while on the set of her new film "Going the Distance," currently filming in New York City, July 29th, 2009. The movie is a look at the trials and tribulations of a long-distance relationship. The movie also stars Justin Long and Christina Applegate. The movie should be released in 2011.
Hot Gossip Links!
Celebrity Fashion Watcher says Katie Price: Horseback Workday
Fatback Media say Amy Winehouse is a Coke Thief
Farandulista says Beyonce Will Launch New Clothing Line
Distortrait says John Travola & Kelly Preston at the Scientology Mardi Gras
Anything Hollywood says John Mayer And Jessica Simpson Reuniting Or Not
I Need My Fix says Heidi Montag & Spencer Pratt Look at Baby Clothes
Glitterati Gossip says Ashley Greene: Picture Perfect
Eat Sleep Celebrity says Kid Rock says-"Twitter is GAY" –
Celebrity Smack says Omer Bhatti: Michael Jackson's Love Child [VIDEO]
CelebSlam says Brad Pitt is Drunk
Deceiver says Once Again, Past Obama Attacks Present Obama
Allie is Wired says Lindsay Lohan Returns To Blonde For Movie, Hates It
Bitten & Bound says Richard Leroy Walters: Homeless Millionaire (PHOTO, VIDEO)
Celebridiot says Who Won Charm School 3
Notorious News says This Jonas Brother Will Not Be Getting any Pussy Anytime Soon
D*ana's Dirt says See J-Lo's Cute Kids
Crazy Days and Nights says Organic Food Is Not Better Than Regular Food
CelebGlitz says Jillian and Ed on Regis and Kelly VIDEO
Celebrity Puke says John Mayer's Got Girl Fans!
Skinny VS Curvy say Eliza Dushku Gets Sexy for FHM
Click on thumbnails to enlarge
Photos: Fame Pictures