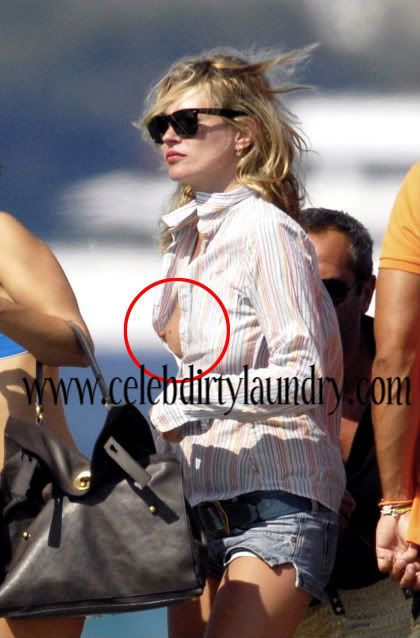 The wind blows Kate Moss' shirt open, causing a nip slip, while she hangs out with fellow Brit Lily Allen at Club 55 in St. Tropez on August 7, 2009.
Weekend Hot Gossip Links
Amy Grindhouse says Heidi Montag Playboy Cover Revealed (Photo)
Fatback Media says Kate Moss Has A Nip Slip!
Busy Bee Blogger says Get Ready For the Joan Rivers Roast
Farandulista says Kim Kardashian Is Desperate For Attention
Celebrity Fashion Watcher says Daniel Baldwin & Wife Joanne Welcome A Baby Girl!
I need My Fix says David Cook, Kris Allen & Adam Lambert Perform on GMA
Anything Hollywood says Paris Hilton And Doug Reinhardt's Fiji Vacation
Glitterati Gossip says Victoria Beckham: Stick Thin
Eat.Sleep.Celebrity says Doctors say:Billy Mays died of Cocaine Overdose
Notorious News says Dorian Gray Trailer
CelebWarship says Lindsay Lohan Makes Awesome Decisions
Crazy Days & Nights says Mr. Tori Spelling Wants To Be On Dancing With The Stars
D*ana's Dirt says Happy Katie, Grumpy Suri
CelebGlitz says Lindsey Johnson "Feels Terrible" for Bachelorette Jillian
Bitten & Bound says U.S. Senator Mel Martinez Resignation (PHOTOS, VIDEO)
Photos: Fame Pictures