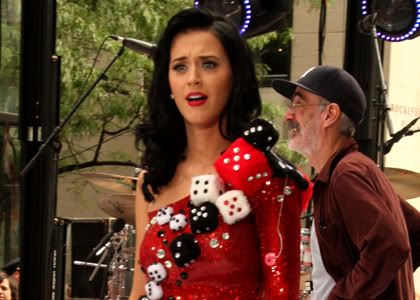 Bringing her own funky brand of girl power pop to the table, Katy Perry was spotted rocking the stage at the "Today" show this morning (July 24).
The "Hot N Cold" songstress looked fit and fine as she pranced around singing, sporting a dice-laden red one-shoulder sequined minidress with a jet black wavy coif.
During a recent interview, Miss Perry explained that while her One of the Boys album is a bit on the crazy/crude side, her next record will be quite different.


"I'm looking to make a record that's more honest and it's going to be different. I'm not trying to alienate my fans necessarily but One of the Boys was written from 17 to 23 and now I'm 24 so my perspective on life has changed.
"I'm not looking to make a record about, 'Hey, I got famous this year and you didn't… blah blah blah. This relates nothing to you.' It might be emotional but I don't think it's going to be sad emotional. It's just going to be completely packed with what you want to hear about what I think. Everyone asks me, 'What do you think about this? What do you think about that? And about this person?' I don't really comment about that in public but I take it to the pen and I get nasty."