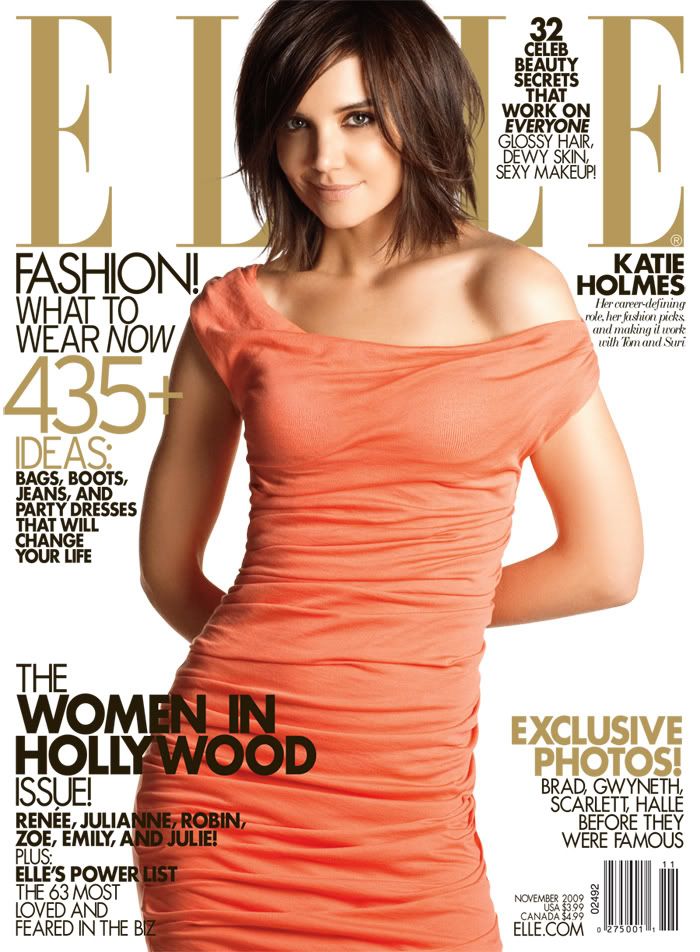 November 2009 Elle titled Women In Hollywood features multiple covers from Katie Holmes to Renee Zellweger. The cover was shot by Richard Bailey.
In the interview the women talk about:
KATIE HOLMES
On family life: "In my own life, my whole world really revolves around family. I do what I need to do, but it's like, 'How is everybody else doing?' And it's wonderful for me as an actress to put some of that into a character."
On life as a working mom on the Broadway set of All My Sons: "Suri would sit in my lap in the makeup chair. She'd hand the wig lady the bobby pins."
On fashion: "I love Alaïa, for sure. Stella McCartney. I like Ralph Lauren because I feel like it's very American, and I'm pretty all-American, from Ohio. Isabel Marant and a new designer, Sari Gueron.
On the genre of film she loves most: "It can be any genre. I even like vampire movies – they just have to be well done. I want to believe in the characters. The minute it starts to feel not real, I'm not interested."
EMILY BLUNT

-On adjusting to Hollywood life since moving from the UK: "I feel the fear of the business creep under my skin in L.A. in a way that it doesn't in England. It's funny – I feel like beauty is in the eye of the beholder, unless you're in Hollywood! It's shameful how you have to look a certain way. Women are simply not allowed to grow old gracefully. That's why I love playing character parts, because I'm not pigeonholed into trying to remain young forever to play the ingénue or romantic lead."
JULIANNE MOORE
-On types of characters she is drawn to: "I think my connection to acting has been through reading. I'm interested in scripts. People ask me, "What role are you dying to play?" It's really, What story do I want to be in?"
RENEE ZELLWEGER
-On actresses from earlier eras that have influenced her: "For Leatherheads, I was thinking of Katharine Hepburn, the way she leaned forward with her shoulders back, speaking in her lower register the whole time. I like her confidence, her intelligence, her sense of entitlement. When I was making Chicago, I couldn't stop watching the Marilyn [Monroe] videos. Not so much because of the sex kitten thing; it was more her vulnerability. That was a huge part of the Roxie character. But it's not about emulating; it's about a feeling."
-On whether a successful movie career requires sacrificing your personal life: "A friend of mine couldn't decide between moving to New York or staying in L.A., and another friend said, "Do Everything!" I thought, That's it, do everything."
ZOE SALDANA
-On being known as a beautiful Hollywood actress: "I'm sorry, but it's sexy to know that guys find you attractive. It's empowering."
To see the rest of the 'Women In Hollywood' covers visit ELLE.com