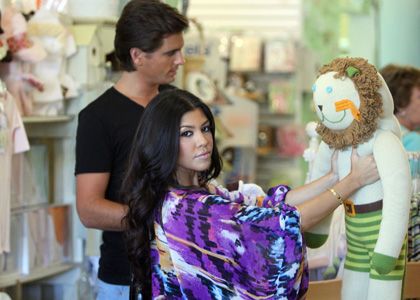 Out gearing up for their baby-on-the-way, Kourtney Kardashian and Scott Disick went shopping at the Juvenile Shop in Calabasas, California on Thursday afternoon (August 20).
The E! reality star and her babydaddy strolled the local boutique's racks side-by-side, with Kourtney clad in a loose fitting ensemble draped over her baby bump.
Chatting with press about getting ready for their impending arrival, Kourtney tells of the nursery, "I haven't done one thing for the room, except look online at a million pictures. But I'm also kind of waiting until I can find a decorator. I just want to work with someone and make it perfect. I have a stylish vision of a room in my head."
And it sounds as if Scott is getting into the fatherly spirit, with Miss Kardashian revealing, "At nighttime, I'll make Scott put his hand on my stomach and feel it. Every time he leaves me he kisses my stomach and says goodbye to the baby and talks to it. It's so cute."