She just announced her pregnancy, and Kourtney Kardashian is trying to play it coy as to who the father of her unborn child is. Lucky for us we have found these pictures from back on May 26th of Kourtney and her on/off fiancé Scott Disick looking very loved up in Miami.
Kourtney – who hasn't been in a relationship since splitting from on/off boyfriend Scott Disick in January – was "shocked" to discover she is expecting a baby while on holiday in Florida. She said: "We were in the Everglades and I kept feeling nauseous and sick. I just kept thinking something wasn't right. I went to the doctor and he confirmed the news. I was just so shocked."
The 30-year-old beauty – who shot to fame in the reality show 'Keeping Up with the Kardashians' alongside sister Kim – is due to give birth in December and has not named the father. However, Kourtney and Scott have reportedly been spotted on dates in recent months. In July, the pair enjoyed a romantic dinner in the Hamptons, where it is claimed Scott introduced her to friends as his girlfriend.
However, because Kourtney says she is expecting to give birth "right around Christmas time", she would have fallen pregnant around March this year when their relationship was off. In the meantime, the star's new show 'Kourtney and Khloe Take Miami' – a reality series with her 25-year-old sister – airs in the US on Sunday (16.08.09).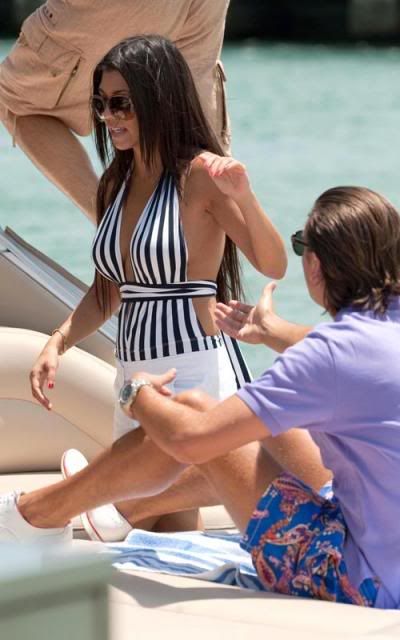 And given that this was the only time Scott visited the southern Florida city, it looks like these shots of the two lovebirds could be during the time Kourtney conceived. For the official story, Kourtney has teased that "they will have to watch the show," referring to her upcoming "Kourtney and Khloe Take Miami." Source: Bang Showbiz
Photos: Flynet Pictures