MJ the greatest artist to have ever walked the earth…!!
Michael Jackson who won many hearts has made his presence felt in every country, color & religion. In his 50 years of life he had gone through all the phases of life as a Star icon, fame, controversies, drug abuse, child abuse, bankruptcy. He always said he doesn't want to become like Legendary King of Rock 'N' Roll Elvis Presley and marries his daughter and dies like Elvis
Lilly Allen and Lady Gaga pay tribute to King of Pop' Michael Jackson at Glastonbury Festival in England
Lily Allen was busy battling it out with Lady GaGa at Glastonbury last night to see who could wear the the most outrageous outfit.
The Londoner took to the stage in cleavage-bearing jump suit and pink wig, while the outrageous American showed even more of her buttocks than usual in a design that seemed to be inspired by a disco ball.
But good old Lily still found to offer a tribute to the late Michael Jackson as she slipped a single long white glove onto her right hand.

It was the third consecutive time Lily has played at Glastonbury.
Lady Gaga, on the other hand, made her debut at the festival this year.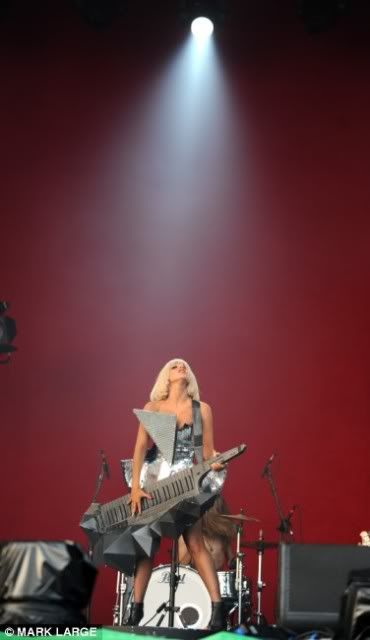 The New Yorker, 23, played on the Other Stage at 8pm.
Her performance was suitably dramatic, featuring costume changes and a pyrotechnic spraying from her chest.
At one point she stood on a revolving platform to play a giant keytar that spun around to reveal her fishnet-clad buttocks to the audience.
Her set included Paparazzi and Just Dance. She ended her show with the hit Poker Face.
The Singer did her homework well, instead of concentrating on her crap music, the smart women finds her way to keep her fans and sell records by her outrageous outfits. The singer wore a very short dress with fishnet tights showing off her buttocks