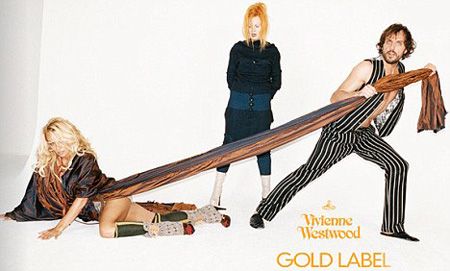 Pamela Anderson does Vivienne Westwood Fall/Winter 2009/2010. The campaign was shot by Jurgen Teller. Pictured in the shots are Pamela Anderson, Vivienne Westwood and Andreas Krnothaler. The photoshoot is kinda goofy but it suits Vivienne's style.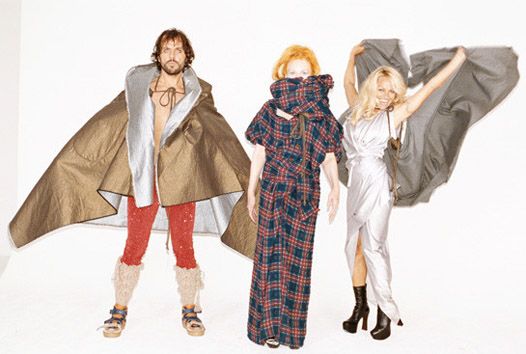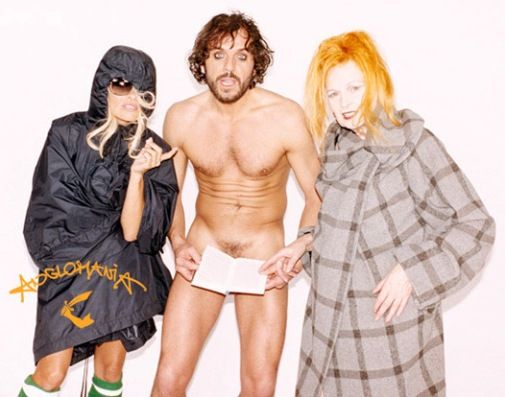 Vivienne Westwood is a British fashion designer largely responsible for bringing modern punk and new wave fashions into the mainstream. One of the dresses featured in the "Sex and The City Movie" is a design made by Westwood and it is subsequently sent to Carrie as a gift, with a handwritten note from Westwood herself. Although she has already picked an outfit for the wedding, Carrie immediately decides to wear the Westwood gown instead.
Despite being invited to participate in the making of the movie, Westwood was unimpressed with the costuming by renowned stylist Patricia Field. She walked out of the film's London premiere after 10 minutes, publicly criticising the clothing featured as being frumpy and boring. The wedding dress has subsequently become widely recognised as one of the movie's most iconic features and has led Westwood to approach the producers about being involved in making a sequel.