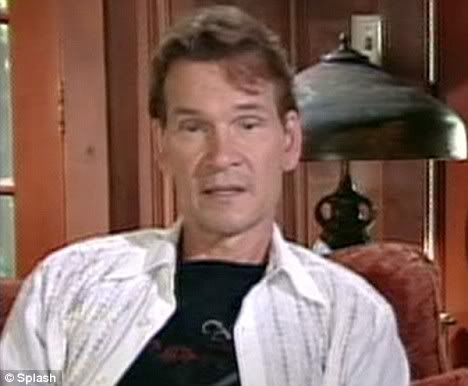 Patrick Swayze has spoken to Barbara Walters in his first interview about his fight with cancer. He told her 'You can bet that I'm going through Hell, 'And I've only seen the beginning of it. There's a lot of fear here. There's a lot of stuff going on. Yeah, I'm scared. Yeah, I'm angry. Yeah, I'm asking, "Why me?"'

Patrick hasa malignant tumour in his pancreas. As it had spread to his liver, he was told surgery was not an option. Most people with this diagnosis live less than six months. Rather than stay at home Patrick accepted a role on the TV series "The Beast" where he plays an under-cover FBI agent.

Patrick discusses with Barbara that since his illness he question the possibility of an afterlife. "I don't know what's on the other side,' he said. 'It tests everything I believe in and there is something unique in all of us that does not, does not die.'
Below is the trailer of the interview "The Truth Is Here"