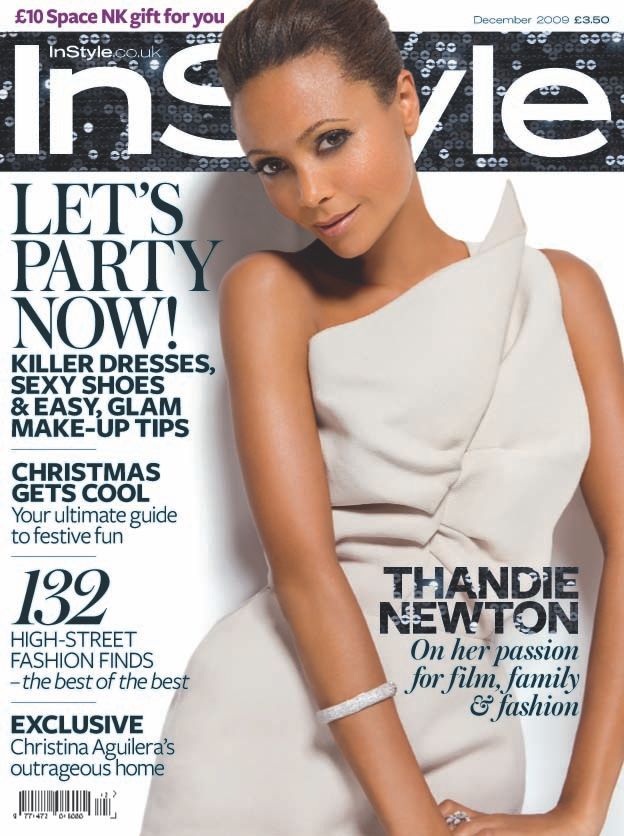 The beautiful Thandie Newton is InStyle UK's cover girl for the December 2009 issue. In the interview Thandie said "In the right wedges, you can do anything!"
Here are a few quotes pulled from the article:
Let's face it, Thandie making a fashion faux pas is about as likely as seeing Posh in a tracksuit. You might be a 37-year-old mum of two, but you've still got a ballet dancer's figure…
"That's genetic! And I'm a Jivamukti yoga freak – it's food for my soul. When I'm not working, I'll drop Rip off at school and Nico at nursery, then I go to yoga. I also have an amazing personal trainer, who I see whenever I can."

You've co-starred with quite a few dishy men. Did any of them make you think, 'Ooh, if I wasn't married…'?[Laughs] "
Listen to you! I've never dated an actor, just had the odd fling. Isn't that weird? I don't flirt with people – a long time ago, I stopped using my sexuality to have a relationship with people. I don't think you really get a sense of me, sexually, and that's why I have really great relationships with straight men."
Click HERE to read the full interview is in this month's InStyle.
Thandie Newton is a British actress who has appeared in such films as The Pursuit of Happyness; Run, Fat Boy, Run; Mission: Impossible II; Crash and W. Thandie is dubbed the "the queen of practical jokes" on sets when she is filming.
Thandie always fashionable tied up the LA premiere of 2012 yesteday (November 3) as she walked the red carpet in a Prabal Gurung gown.