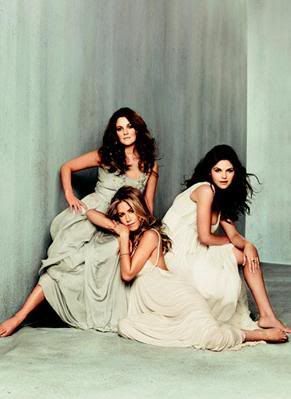 The ladies from the movie 'He's Just Not That Into You' are featured in a lot of magazines this month. The movie based on the best seller from "Sex & The City" writers Greg Behrendt & Liz Tuccilo, tells the story of a group of interconnected Baltimore based 20 & 30'ish people as they navigate their various relationships. The ladies are probably getting a lot of press because of the worlds facination with Jennifer Aniston and her love life. Jennifer has been playing it to the hilt blabbing to very magazine that will listen about Brad Pitt & Angelina.
Here are some highlights from the interview that feature Aniston, Drew Barrymore and Ginnifer Goodwin: To read more visit Marie Claire
Marie Claire: What's the lamest breakup excuse you've ever heard?
Drew Barrymore: Definitely the classic: "It's not you, it's me." Ginnifer Goodwin: Oh my gosh, I've dished that out, and I've taken it.
Jennifer Aniston: You cover all your bases with that one.
DB: I hate getting "It's not you, it's me," because I'm never gonna learn and grow from that. I don't want to live on lies and smoke and mirrors and horseshit. No way.
MC: So you'd really rather have people say something hurtful?
JA: Well, in a way — I mean, before it gets to desperation time. Before it gets to "I throw you and the baby and the bathwater out," let's see if we can work through that.