Michael Jackson is a global superstar with legions of fans – including, it seems, RnB singer Rihanna.
The chart-topping Umbrella star was spotted wearing a Wacko Jacko-inspired jacket while she hit the shops in Beverly Hills.
Rihanna, 21, wore a military-style braided denim jacket, almost an exact copy of Michael's signature 'look'.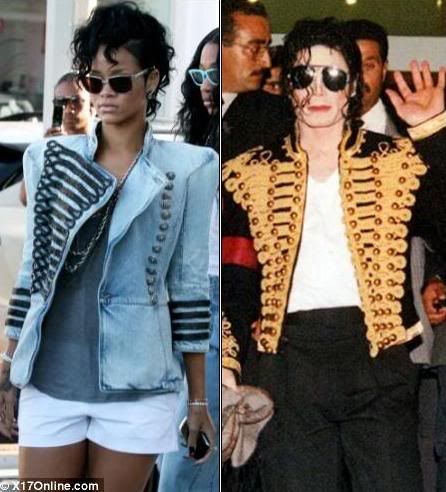 Man in the mirror: Rihanna steps out in a copy-cat Wacko Jacko jacket
The RnB singer spent some time inside cult streetwear store BAPE on Melrose Avenue.
Other celebrity fans of the clothing label include Kanye West, Jay-Z and, er, comic Robin Williams…
Although Rihanna hid behind dark sunglasses, onlookers said she 'appeared in good spirits'.