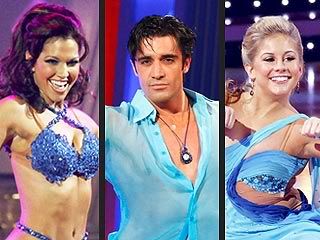 When viewers tune in Monday night to see the final season 8 performance show, they may find themselves in a quandary as to how to vote. That's because the showdown between actor Gilles Marini, Olympic champ Shawn Johnson, and reality star Melissa Rycroft is the most evenly-matched in Dancing's history.
"It's the fans who are really going to decide," says season 5 winner Helio Castroneves. The Brazilian race car driver, prepping for Sunday's Indianapolis 500, tells PEOPLE what viewers have already witnessed: this year's finalists "can all dance really well."
On Monday's one-hour live telecast (at 8 p.m. ET on ABC), the three celebrities and their professional dance partners will dance the paso doble to the same music, as well as perform their respective freestyle routines. Tuesday night all three couples return to the ballroom to perform their favorite dance of the season, which will be scored only by the judges. Then a new Dancing winner will be crowned on the season finale's live results show.
PEOPLE asked three former winners what it will take for this year's contestants to take home the coveted mirror-ball trophy. Here's what they had to say.
Marini, paired with two-time Dancing champ Cheryl Burke, "has this great charm about him that is instantly appealing to the audience," observes season 6 champ Kristi Yamaguchi. "Gilles's biggest weakness is getting too excited while dancing and forgetting to pay attention to the technical details of the dances. In order for him to win, Gilles will have to pull out a crowd-pleasing freestyle with the WOW factor."
Olympic speed skater Apolo Anton Ohno, who captured season 4's trophy, says pal Johnson "has the technical side of the dances down. Now she's got to really turn on her personality. She's got to be animated and bubbly and showcase her goofy side this last week." In her favor is partner Mark Ballas's experience — he won in season 6 with Yamaguchi.
And then there's Rycroft, Dancing's surprise last-minute contestant. Filling in for injured Access Hollywood host Nancy O'Dell days before the season premiere, Rycroft and partner Tony Dovolani have consistently churned out great performances. But will her dancing background ultimately hurt her in the finals?
"She has habits, she was a ballerina for so long," Castroneves observes. "She's very graceful and we know she can dance. She already has the finesse, now she needs to perform to the audience even more."
So who has the edge? "It could be anybody, really," Ohno says. "People need to remember to vote for their favorite." – Monica Rizzo
Tell us: Do you agree with the past Dancing champs? And who are you rooting for to win? Source