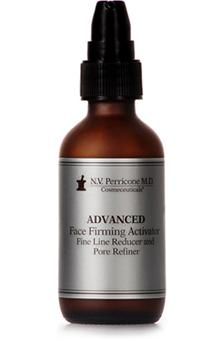 The generous folks over at Nicholas Perricone MD have provided us with another one of their great products for a giveaway – don't miss this one! The prize this time is a Advanced Face Firming Activator by Perricone MD – One of the best ways to protect the body from the signs of aging, cancer, and even the common cold, may also be the easiest. All it requires is a trip to the fresh produce aisle of a nearby supermarket.
Fruits and vegetables are rich in antioxidants, which are the body's front-line defense against harmful molecules known as free radicals. Free radicals cause inflammation at the cellular level and can lead to the development of various health problems such as cancer, heart disease, and inflammatory conditions such as arthritis.
Ladies don't miss this great giveaway and men it os a great gift for your honey. To enter to win the giveaway send an e-mail to contests@celebdirtylaundry.com with the title "Face Firming Activator" and give us your name and address. The winner will be chosen among all the entries January 19th, 2010. We will post the winner here on January 20th, 2010.