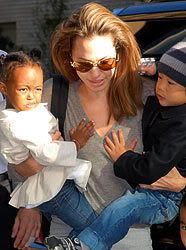 Angelina Jolie and Brad Pitt want to expand their "rainbow" family by adopting a child from Burma.
The couple have enlisted the help of one of the country's leading monks to plan a trip to an orphanage.
According to an insider, Angelina, 32, has become "increasingly despondent" about the progress she is making in helping the Third World.
She is said to be desperate to offer help to troubled nations, and feels the repressive Republic of Myanmar, or Burma, is the ideal place to adopt another child ? preferably, a girl. Source