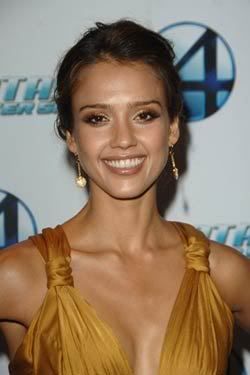 Now isn't this refreshing,?Jessica Alba is putting an end to her raunchy reputation – she's vowed never to disrobe on camera.
The newly-single actress is renowned for her role as sexy stripper Nancy Callahan in 2005's Sin City, but the star has yet to go nude in a movie – and she won't ever do so on film.? She says, "I'm attracted to roles that are more innocent. I haven't done a sex scene and I've never done nudity".
And Alba, 26, added she is disgusted by actresses who do, adding: "I like to get away from those mouthy and in-your-face (people)".? The Fantastic Four star famously threatened to sue Playboy magazine when she appeared on the cover of the March 2006 issue among its 25 Sexiest Celebrities.