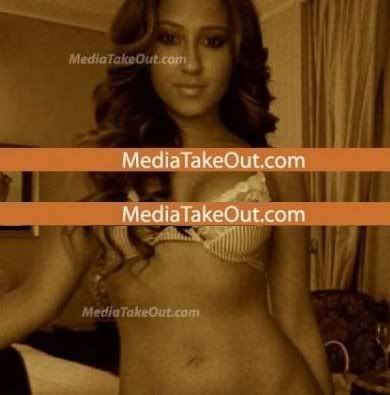 The singer for the Cheetah Girls Adrienne Bailon has landed herself in a nude photo scandal. The Disney girls seem to be having touble keeping their clothes on. First Vanessa Hudgens and now Adrienne. Several practically nude photos have been stolen from Adrienne's laptop, and the guy who took them is trying to shop them around to the highest bidder, according to TMZ.
Adrienne was at JFK airport in late October when her laptop went missing. Later that day her record label received an anonymous phone call from a man saying he had her laptop and would return it for $1000.
The anonymous man was given the money, and in turn he returned Adrinne's missing laptop … except one minor thing was missing — several semi-nude photos of Adrienne. The photos were taken as an anniversary present for her boyfriend Robert Kardashian – brother of Kim Kardashian. Did she really thing the person who stole the laptop would not make a copy of everything that was on it? duh….. The moral of the story don't take pictures like this – and then you won't have a problem, or better yet take care of your property better so it does not fall into the wrong hands! More pics here….