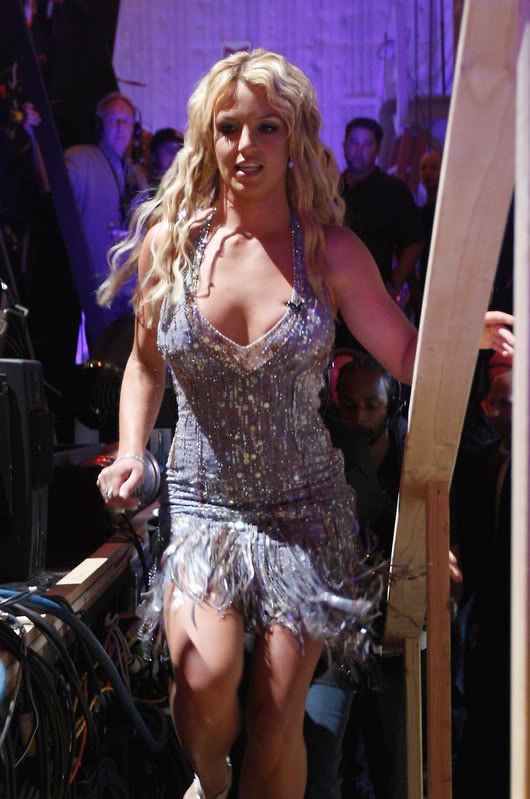 Britney Spears as reported opened the VMA's she looked fabulous – just like the old Britney, I will post pictures as I get them. Her dress was the nicest I have seen so far! It does not appear as if she is going to perform.
Rihanna followed Britney, it started as a ripoff to Michael Jackson's thriller and went downhill once Rihanna started singing she is dressed in a cross between a drag dominatrix and a zombie. Who actually wastes their money and buys this woman's records. It was so sad!
Oh NO! Russell Brand just mention that Rihanna will be performing again in a duet! Lets hope the rest of the show is better!
One of the worst performances of the evening Little Wayne. Why does a grown man think he has to grab his crotch 100's times during a performance and let his pants fall almost to his knees. This joke is this dude won Hip Hop Video of the year.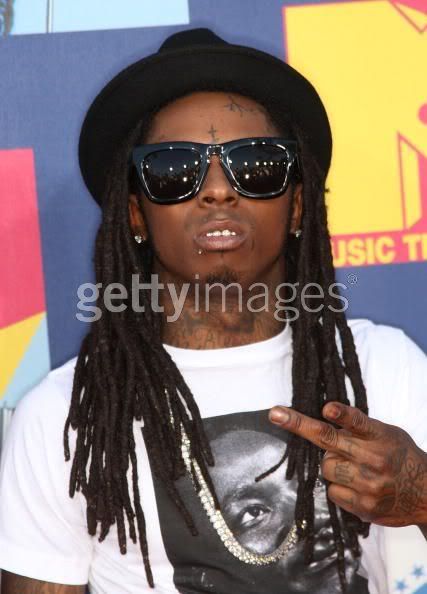 Jamie Foxx (oops) presenting for Best Female Video and the winner is BRITNEY SPEARS.
Demi Moore presenting Best Male Video she looks terrible and had a lot of trouble getting down the stairs, I don't know what she was thinking wearing that outfit a sort of short sailor outfit. Anyway the winner is CHRIS BROWN.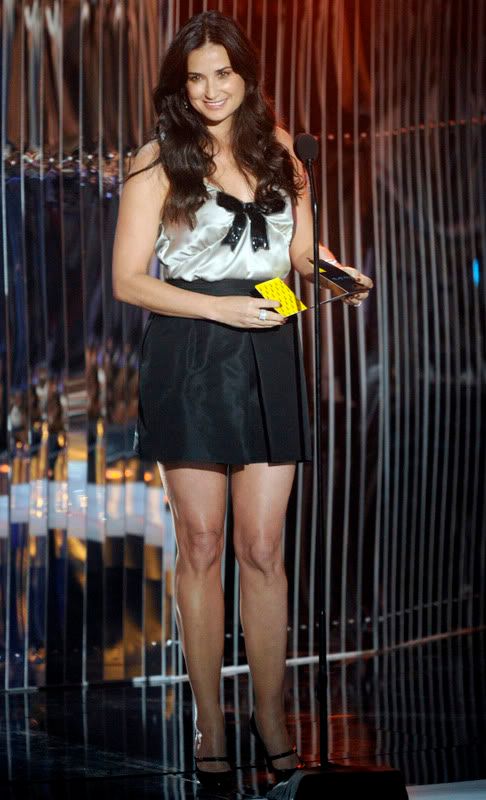 Taylor Swift presented the Jonas brothers. Rumour has it that Taylor Swift is dating Joe Jonas. All I have to say about the performance is "Are they serious" Yikes millions of little girls going crazy! Guess I am too old for these young groups – I don't get it! So far it it looks like I am having a nightmare and this is bad Karaoke!
And the award for best dancing in a video presented by Lindsay Lohan, the winner is The Pussycat Dolls. Let me summarize their speach they love everyone and they are pimping their new album Doll Domination.
Shia Lebouef with his hand bandaged from his "accident" presented with Slash the award for "Best Rock Video" and the winner is Lincoln Park – Shadow of The Day.
Miley Cyrus presented the performance by PINK. Thank God for Pink the best performance of the evening so far. She sang her song "So What" she sounded great and looked great!
Okay time to gripe if another fricking singer does the "I have to thank God" it seems to be a mandatory part of every thank you speak. Britney started with it and everyone is trying to top her to thank him more! I am sure God is very impressed with Little Wayne grabbing his crotch 100 times and the Pussycat dolls dressing like whores.
Next gripe is this an award show or is it a vehicle to put down the Republican Party and promote the Democrats? Give me a break if Russell Brand makes another joke about Sarah Palin's daughter I am going to scream. Russell Brand is a Brit so you have to know some Democrat wrote those jokes for him.
Moving on Pink is still winning the best performance of the night. Christina Aquilera just performed it the first part was terrible, she was lip syncing and misisng all the marks. The second half of the performance was somewhat better.
Chance Crawford and Lauren Crawford presented the award for "Best New Artist" and the winner is TOKIO HOTEL. THank goodness the only person they thanked was their fans. Good thing they won the award, because one thing they are not going to win for is thier fashion sense. Picture of Tokio Hotel band members Bill Kaulitz, left, and Tom Kaulitz.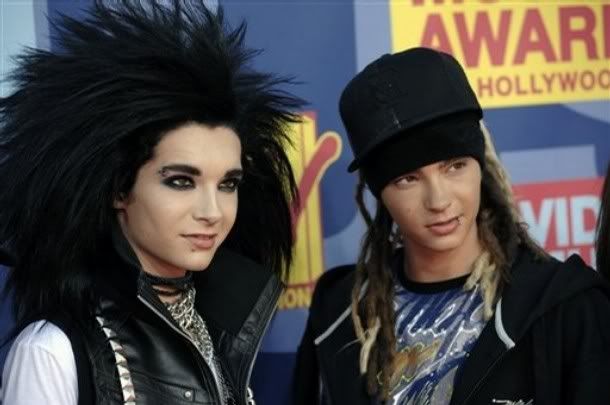 Russell Brand can be funny – Paris Hilton came up to present the award for "Best Pop Video" – by the way Paris you need a new weave! Anyway she got all messed up and the look Russell gave her clearly said "IDIOT" and the winner is Britney Spears. Britney has changed her dress another fabulous dress. She is looking good at this awards and they have her keeping her acceptance speach to a minimum.
Second runner up for the best performance of the evening is Kid Rock. I'm surprised he is really doing a good job! I think the name of the song he is doing is "All Summer Long" feel free to correct me if I am wrong.
Britney won a third award for the evening the "Video of The Year" The MVA's should have been renamed the Britney show!
The last performace of the evening Kayne West. Poor Kayne another award show where he wins NADA (nothing)….. What a boring end to a boring evening……