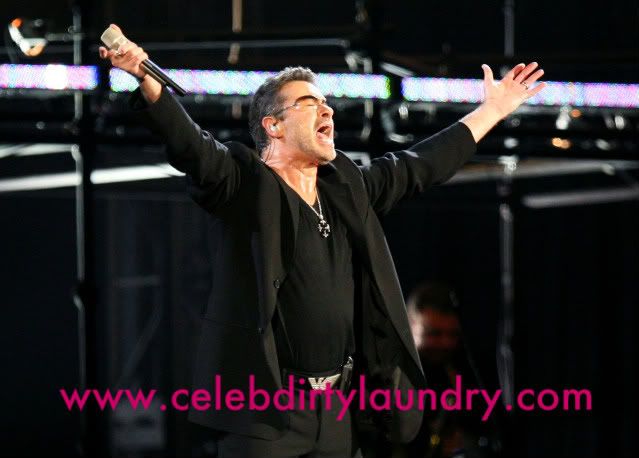 The Sun is reporting that George Michael was arrested on suspicion of drug-driving yesterday after smashing his car into the back of a truck. His Range Rover slammed into the seven-ton truck at high speed on the A34 just after 1am. Onlookers thought George was dead as he sat dazed in the mangled Range Rover for ten minutes near Newbury, Berks.
Shaken trucker Lawrie Rowe, 43, said: "He must have been doing 100mph. When he got out he couldn't walk straight." LOL believe it or not George only recently got his licence back after a two-year ban for drug-driving in 2007 and he is back at it again! George's Range Rover was finished however George survived the accident and was described by the truck driver as being stoned out of his mind. She said "He was absolutely not with it. He was quite merry and wanted a lift but didn't say where to. He was wearing glasses, a black baseball cap, a tight-fitting black T-shirt, black trousers and Crocs shoes. He carried a satchel."
Dazed George walked about 1½ miles down the verge before other truckers stopped him and made him wait for the police to arrive.
However drug tests on George at a police station proved negative. He was released at 6am. Police said 14 officers went to the scene. Last night a spokeswoman for George claimed he had not been arrested.
Photo: Fame Pictures