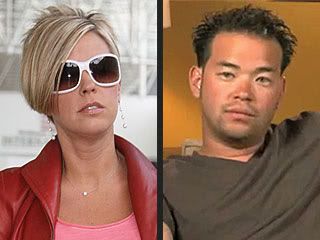 After months of speculation Kate & Jon have finally announced "what everyone knew" they are getting a divorce. Apparfently the documents were filed Monday afternoon. Rumours of Jon having an affair have been circulating for months. Add to that Jon wanted less of a life in the public eye and Kate enjoyed it makes keeping a relationship difficult.
Kate issued the following statement: "Over the course of this weekend, Jon's activities have left me no choice but to file legal procedures in order to protect myself and our children. While there are reasons why it was appropriate and necessary for me to initiate this proceeding, I do not wish to discuss those reasons at this time, in the hope that all issues will be resolved amicably between Jon and myself. As always, my first priority remains our children."

Jon released a statement of his own, claiming his wife was the first to make a legal move. "This afternoon, Kate filed for divorce. Our kids are still my number one priority. I love them and want to make sure they stay happy, healthy and safe. My job is being the best, most supportive and loving father that I can be to my kids, and not being married to Kate doesn't change that."