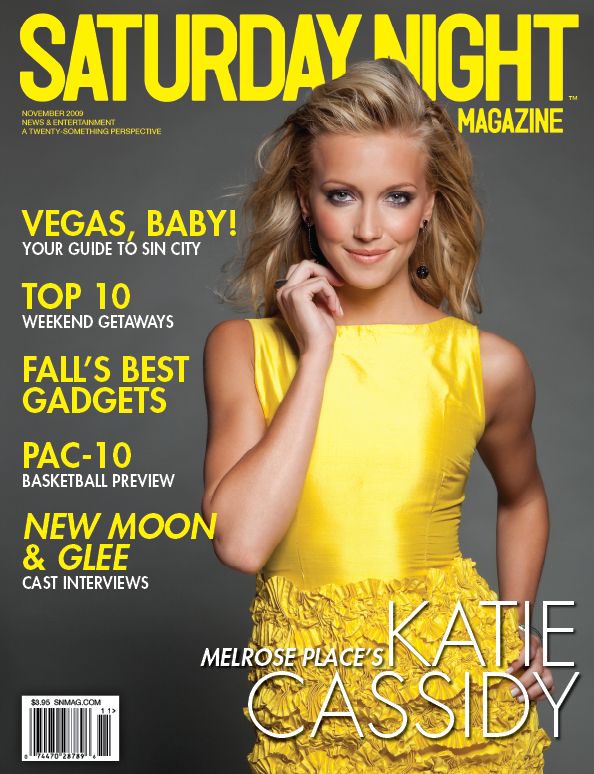 The lovely Katie Cassidy wearing a dress by Ina Soltani graces the Novemeber 2009 cover of Saturday Night Magazine. The photos were taken by Bobby Quillard. Katie Cassidy, who plays Ella Simms (resident Melrose bad girl) has some great quotes about Melrose Place and the upcoming remake of A Nightmare on Elm Street.
Tank by MK2K; Shorts by Sunner; Shoes by Velvet Angels; Watch by Swarovski
Necklace and bracelets by Robindira Unsworth
Melrose Place has made a much-anticipated comeback this Fall on The CW (Tuesdays, 9 p.m.). So what's in store on the new MP? Cover girl Katie Cassidy, who plays Ella Simms (resident Melrose bad girl), brought us up to speed during our photo shoot at Hollywood's Playhouse.
On her character of Ella Simms?
She's the publicist/fashionista. She is very forward and blunt. She's a power woman. She knows what she wants, and she will go to any length to get it. But she may burn some bridges along the way.
On how she approached the role with Ella being bisexual and how it will impact future storylines?
She is "try-sexual," meaning she will try anything. She is so open and so free, you never what she is going to do. I think it comes from a place where she is desperately seeking love and acceptance from everyone around her. She doesn't let anyone see the vulnerability that is there. She definitely puts her guard up and protects herself at all times.
On whether she had any reservations about playing the role?
It definitely crossed my mind. I have to be ready to make out with women or have a threesome. I need to be ready for anything. It's all part of the game though. Being an actor, a character might have an element or two that might be uncomfortable for you. But I'm not playing "Katie Cassidy," I'm playing "Ella Simms" and that is a part of her. You have to be able to take on anything, and I was open to it. It sounds fun!
On whether she watched the original Melrose Place or did she have a Melrose marathon when the project came about?
I have actually never seen the original. I wasn't allowed to when I was younger. My parents wouldn't let me watch it. I haven't had time to catch up with it. I didn't want to watch it until we really get into things so it doesn't have an effect on my performance. Not that it would, because it's new people. But, I got the job not seeing it, so I didn't want to go watch it and have something change. But now that I have had some time to sink into the character, I feel more comfortable going back and watching it and I will.
For more on this great interview visit Saturday Night Magazine