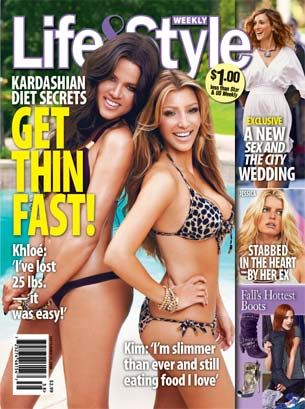 In the new issue of Life and Style the Kardashian sisters Kim and Khloe reveal their diet secrets. They both have finally achieved their weight loss goals and have the best body they have had in years. Here is how they did it:
Was losing those final pounds the most difficult part?
Khloé: It's always been hard to lose weight in general, and I'm still losing weight, but right now, I feel like I've lost all my fat and just want to tone up. It's really because of QuickTrim [a system of supplements customized for various fitness goals]. I've had weight battles my entire teenage and adult life, but this time when I tried losing it, the weight just fell off. It was easy.
Kim: I trained so hard for my fitness DVDs, Fit in Your Jeans by Friday, and I just needed an extra push. QuickTrim completely took it to this level.
How much weight have you lost?

Khloé: I've lost about 25 pounds, and I know that only because my best friend, who trains me from time to time, weighed me and told me. I was about a size 10; now I'm a 6. It's weird, though: In denim, I'm the same size. It's just my body shape.
For more of the interview check out Life & Style