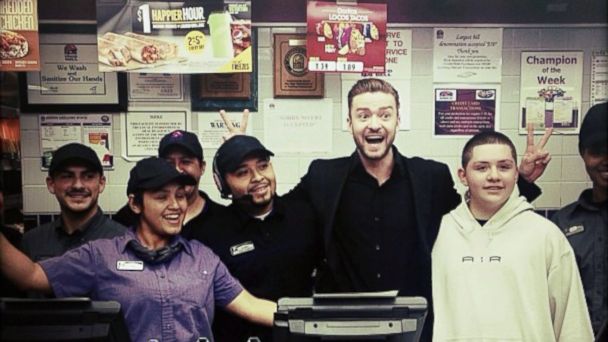 Do the rumors about Justin Timberlake and Jessica Biel's marriage suddenly appear to be more plausible after his mother tried to defend him on Facebook? Why, yes they do! It may not have been Lynn Harless's intent but if she hadn't addressed the situation then maybe all of this could have died down. Yet she did and now we're all wondering why she felt the need to say her son and daughter-in-law live very happy lives. That sounds less like a protecting mother and more like PR damage control.  And by this point we've had enough of the PR spin.  

Let's take off our rose-colored glasses for a sec and see things as they really are: Justin has been showing up alone at events. He arrives alone and sometimes he hangs out afterwards in say Taco Bell like he did after the People's Choice Awards. Odd seeing as there was no rushing home for him. He'd rather share in total strangers' company than go celebrate his wins with his wife. As for Jessica; where was she you might say. In her last sighting she was seen out shopping. And there I was thinking she wanted to look extra nice for the awards! Officially Jessica is still an actress but since marrying Justin she has turned shopping into a profession. Not that there's anything wrong with that as long as she's seen shopping and then wears said clothes to (just guessing here) support her husband whose probably the one footing the bill.
Justin has been winning a lot of respect lately and wouldn't have hurt to have his wife by his side leading that particular troupe. She missed out on an earlier award show and to calmed down the rumors that time she explained she was watching the awards at home. Sorry but when did that become the same thing as actually being there! If she was available to watch then she could have gone!
Justin said in his acceptance speech "I'd like to thank my beautiful wife for teaching me patience and the little things like just putting the dishes in the dishwasher. It goes a long way" before adding "fellas, you're welcome." What is with "you're welcome"? He could have been joking and yet it felt he was trying to throw social media a bone. He figured if he gave us something then we shut up.  We wouldn't wonder if their marriage was in trouble or if Jessica was pregnant and suffering from that thing where she only feels better after shopping (you know like Kate Middleton had). I think that plan failed, don't you?
Photo Credit: Twitter